Infusing Life and Business with Authenticity and Appreciation
Mike Robbins is an author, thought leader and sought-after speaker who teaches people, leaders, and teams to infuse their lives and businesses with authenticity and appreciation.
Mike Robbins, CSP, is an expert in teamwork, leadership, and emotional intelligence. He delivers keynotes and seminars that empower leaders, teams, and organizations to work together effectively and be more successful. He teaches people how to infuse their lives, relationships, and businesses with authenticity and appreciation.
Mike is the author of five books, Focus on the Good Stuff (Wiley), Be Yourself, Everyone Else is Already Taken (Wiley), Nothing Changes Until You Do (Hay House), Bring Your Whole Self to Work (Hay House), and We're All in This Together (Hay House).  His books have been translated into fifteen different languages.
Prior to his speaking and writing career, Mike was drafted by the New York Yankees out of high school, but chose instead to play baseball at Stanford University where he pitched in the College World Series. Mike was then drafted by the Kansas City Royals out of Stanford and played three seasons of professional baseball with the Royals before arm injuries ended his playing career while he was still in the minor leagues.  After his athletic career was cut short by injuries, Mike worked in sales and business development for two Internet start-up companies before starting his consulting business in 2001.
His clients include Google, Wells Fargo, Adobe, the U.S. Department of Labor, New York Life, Harvard University, Schwab, Kaiser, eBay, the NBA, the San Francisco Giants, LinkedIn, Gap, Microsoft, and many others. He and his work have been featured on ABC News, NPR, the Oprah radio network, in the Wall Street Journal, the Harvard Business Review, Fast Company, and many others.  He's a regular contributor to Forbes.  He's the creator and host of his own podcast called, We're All in This Together.
He lives in the San Francisco Bay Area with his wife Michelle, and their two daughters, Samantha and Rosie.
The Keys to Creating a Championship Team
Enhance loyalty, attitude, & success by doing what winning teams do
A "championship team" is a group of people who can effectively handle adversity and conflict, trust one another, communicate clearly and authentically, and appreciate each other in a positive way. In this program, which is based on key principles from all three of Mike Robbins' books, as well as his background as a college and professional baseball player, he teaches people, leaders, and groups the fundamental aspects of creating successful teams that truly win.
This program:
Teaches people how to build more authentic relationships with the teammates
Unifies and inspires teams around their common goals and purpose
Shows how appreciation positively impacts both morale and productivity
Encourages people to be authentic in a way that builds trust
Challenges team members to take ownership for both personal and team success
The Power of Appreciation
Inspire success, engagement and perspective by being appreciative
Appreciation is one of the most powerful, yet overlooked aspects of successfully motivating and empowering people and teams. According to the latest research in the fields of positive psychology and strengths-based leadership, when individuals and teams put more attention on what is working and their strengths, instead of focusing on problems and perceived weaknesses, they thrive. Through this program, which is based on the key principles of his book Focus on the Good Stuff, Mike Robbins illustrates exactly how appreciation impacts productivity, morale, and success.
This program:
Explains the important distinction between recognition and appreciation
Enhances teamwork and connection
Encourages a positive team culture that focuses on the good stuff – not on gossip, complaints, or negativity
Helps people effectively deal with adversity and stay positive in the midst of change and challenges
Provides tools and techniques for authentic empowerment
Be Yourself, Everyone Else is Already Taken: The Power of Authenticity
Create trust, confidence and team unity by being real
Authenticity is fundamental to relationships, communication, and success. Now more than ever, people, leaders, and teams must utilize the power of authenticity in order to build trust, resolve conflicts, and create cohesion. Some fascinating research in the field of emotional intelligence is proving that being real, honest, and even vulnerable are key elements to success and engagement. Through this program, which is based on the core principles of his book, Be Yourself, Mike Robbins illustrates exactly how authenticity impacts relationships, trust, and productivity.
This program:
Improves communication, connection, and trust in a positive way
Enhances emotional intelligence (EQ)
Challenges people, leaders, and teams to look at, deal with, and address the "elephants in the room"
Helps people effectively deal with conflicts and engage in difficult conversations successfully
Provides techniques for moving past fear and taking successful risks
Nothing Changes Until You Do
Navigate change and enhance resilience by taking ownership
Wherever we go in life, there we are.  The one constant in the midst of all of the change, stress, and uncertainty we face in business and life is us.  When we take ownership and responsibility for our experience, we not only make it easier to navigate the changes we face, we can empower ourselves and those around us to be authentically successful, regardless of the circumstances. This program, which is based on the core principles of Mike Robbins' latest book, Nothing Changes Until You Do, illustrates exactly how individuals, leaders, and teams can thrive in the midst of change.
The program teaches people to:
Take ownership and responsibility in an empowering way
Enhance their emotional intelligence (EQ)
Deal effectively with change and uncertainty
Have more compassion for themselves and others
Enhance the culture around them through authenticity and appreciation
Leading with Authenticity
Inspire others and build trust by being a REAL leader
Leadership can be challenging, especially in today's face-paced, globalized world. Senior leaders with a strong sense of emotional intelligence (EQ), an ability to lead with personal transparency, and the capacity to inspire others in a genuine way, have a distinct advantage.
This program, which is based on the core principles of Mike Robbins' three books, especially Be Yourself, Everyone Else is Already Taken, delves into practical ways for leaders to enhance their impact and effectiveness by leading with authenticity.
This program:
Teaches leaders how to connect at a deeper level with their teams and build real trust
Exemplifies the importance of authenticity and even vulnerability
Shows how appreciation positively impacts productivity, loyalty, and engagement
Encourages leaders to be transparent in a way that's both liberating and inspiring
Teaches leaders key elements for enhancing their EQ
Additional programs that Mike delivers as keynotes, breakout sessions, or seminars:
The Keys to Creating a Championship Team
Building Authentic Relationships
Being a True Champion
Communicating with Impact
Leading with Authenticity
"Mike is a gifted storyteller and talented speaker.  His talks on authentic leadership and appreciation, and his exercises to 'lower the waterline' and build trust have been incredibly effective to both my management team as well as an international audience of 600.  I have consistently received rave reviews from colleagues on Mike's various efforts within Google."
– Alan Moss, VP of U.S. Sales, Google
"Mike Robbins has a great style and unique perspective. The principles he teaches have helped me and our executive leadership team at eBay."
– Devin Wenig, former President and CEO, eBay
"Mike Robbins is a trusted advisor to us, and has had a very positive impact on me personally, as well as on our leaders and the corporate culture at Nutanix."
– Dheeraj Pandey, co-founder and CEO, Nutanix
We're All in This Together
Bring Your Whole Self To Work
Nothing Changes Until You Do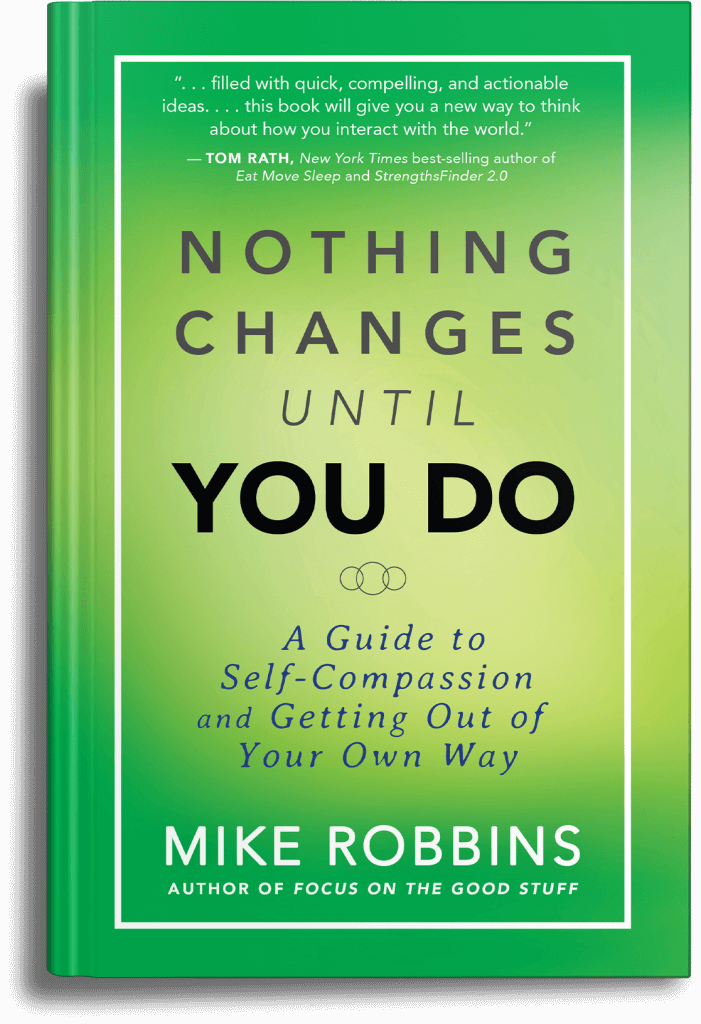 Be Yourself, Everyone Else Is Already Taken
Focus On The Good Stuff