Simon T. Bailey believes in your brilliance. He leads the SPARK Movement whose purpose is to ignite sustainable transformation in people, individuals, systems, and nations.
Recognized as a trailblazer in his field, Simon's dedication to transformation and brilliance has earned him a spot as one of Success magazine's Top 25, joining Brené Brown, Tony Robbins, and Oprah Winfrey, as well as leadersHum Top 200 Power List in 2023. For over two decades, he has mesmerised the world, leaving an indelible mark on 2,300+ organizations across 54 countries. Corporate giants such as American Express, Deloitte, Marriott, Visa, Stanford Health Care, and Taco Bell have all experienced his magnetic allure.
Amidst the pressing challenges of talent retention, employee burnout, the Great Resignation, and the impact of remote work on mental health, a billion-dollar retailer sought innovative solutions to invest in organizational health and prioritize employee well-being. Recognizing the importance of upskilling managers for the future, they turned to Simon T. Bailey, International for guidance.
Through a transformative three-month coaching program, Simon virtually mentored 3,000 managers, empowering them to transition from a command-and-control leadership approach to a heart-centred style rooted in Caring Science. This strategic coaching was particularly vital in the retail sector, known for its high turnover rates, and the results were remarkable. Participants scored between 94% and 97% in categories reflecting their confidence in their ability to coach effectively, allowing the Fortune 500 company to nurture and retain top talent while fostering a healthier and more productive workplace.
With love and dedication to coaching individuals and organizations, Simon has now created Brilliant Coaching.™ This transformative growth experience offers tailored solutions to meet unique needs and align with specific goals and objectives, empowering both individuals and organizations to unlock their full potential.
But his accomplishments don't end there. Simon has made a remarkable impact with 11 books in his illustrious repertoire, and 14 groundbreaking courses on the LinkedIn Learning platform, translated into eight languages and consumed by over 400,000 professionals from more than 100 countries. His dedication to brilliance and transformation has been recognized with an honorary Doctorate of Science in Business Administration from Cleary University, further cementing his status among the titans of our time.
In this new chapter, Simon T. Bailey unveils his latest audacious endeavour: BrilliantU.™ This digital experience transcends the boundaries of imagination, equipping and mentoring leaders to thrive and flourish in tumultuous economies. With a commitment to practical strategies that transform lives and ignite change within communities, Simon's mission is clear — to kindle brilliance within leaders, forever altering the way they steer nations, corporations, and societies.
Spark Empathetic Leadership with Accountability
Key Takeaways:
Connect with heart-centered intelligence based on Caring Science research
Care by using micro-practices from best-in-class global leaders
Coach teams to unlock innovation and productivity
Spark Customer Love
Key Takeaways:
Discover why Caring and Serving are the ways to sell
Elevate the Customer Journey with Five Platinum Service Principles™
How to create customer engagement while working remote
Ignite the Power of Women in Business
Key Takeaways:
Why this is the Age of The Woman
How Men can be advocates
How to Listen Collaborate and Celebrate
Shift Your Brilliance – Act Like an Employee and Think a CEO (Creative Engagement Optimist)
Key Takeaways:
Increase your performance with Top 5 Skills based on research
How to Build Business Relationships
How to be an Effective Team Player
Spark Next Level Leadership
Key Takeaways:
Inspire heads, hearts, and hands to flourish through wellness
Learn simple strategies from best-in-class leaders in 13 different industries
Lead with heart-centered intelligence based on Caring Science research
Spark the Customer Experience
Key Takeaways:
Infuse 5 simple principles to keep customer for life
Engaging all stakeholders and lines of business to obsess about the customer
Caring and Serving are ways to sell
Elevate Your Culture
Key Takeaways:
Activate team members through a positive employee experience
Advance talent with intentionality and inclusivity thinking
Appreciating team members for their meaningful contributions
Release Your Brilliance™ – Forget Your Title and Transform Your Job
Key Takeaways:
Increase your performance with the Top 5 Skills based on research
Be an Intrapreneur who innovates and owns the moment
Develop High Impact Habits that influence your team and organization
We were privileged to have Simon as a keynote speaker at our Annual Meeting. He was rated by our audience of healthcare executives as one of the best presenters ever. His genuine, knowledgeable, and inspirational style effectively educated and motivated us to be effective leaders, especially during turbulent times, by shifting our brilliance.
Dale E. Shreve - President/CEO of Mental Health Corporations of America
Just wanted to let you know, that today, you made a difference in my life! Thank you Dr. Bailey for helping transform into a diamond. You reminded me to trust my swing, to show confidence, and most importantly not to settle for good because I am great.
Patrick Grinnals - Former Walt Disney Imagineer and CEO of Grinnals Group
WOW he was AWESOME! and our field absolutely loved him. His message was spot on, and we were all so happy with Simon's segment. Simon was a force. A force multiplier. He was fantastic for us. He did his homework and he touched the hearts and minds of our people. He was sensitive and intuitive and actionable. We loved him. Just a joy bomb all around. I just consider him a friend now and w reach out for other opportunities to work with this magic maker.
Jane Creed - President and CEO of WineShop At Home
AMAZING! That's what all our attendees said after Simon's closing keynote presentation at our American Marketing Association conference. Simon was an exceptional speaker – engaging, candid, and heartfelt – bringing the attendees to a really high note for the close of the conference. He made them all leave our conference wanting to come back for more the next year. We had numerous positive comments from our participants. Simon helped us elevate our conference for our attendees. A truly great speaker for innovation, marketing, and motivation! I would highly recommend Simon for conferences, corporate, and smaller group settings.
Michol Banes - Senior Marketing Manager at Baker Tilly Virchow Krause, LLP
How do you "bring down the house" at a virtual (or any) conference? Select Dr. Simon T. Bailey as your keynote speaker! Simon presented the closing keynote, "Shift Your Brilliance: Navigating and Flourishing in the Evolving Workplace", at New York City SHRM's 2021 Annual HR Conference, Navigating NEXT. His message was timely, powerful, and inspirational! His presentation style was engaging and energetic. Add to that a very joyful, infectious laugh and you have presentation gold. Some comments from participants: "amazing", "brilliant", "so many gems", "enlightening", "insightful", "WOW", "exceptional", "shot of optimism", "so much wisdom", "motivating", "rockstar" "passionate" and more. On behalf of New York City SHRM, I highly recommend Dr. Simon T. Bailey! Thank you, Simon, for your brilliance and inspiring all of us.
Janet Hoffmann- President of HR Aligned Design
Simon is one of the most gifted and charismatic speakers I've ever met. His sole purpose in life is to improve the lives of others and bring them to live lives of true brilliance & passion, operating from levels higher than they ever thought possible. He was the keynote speaker for our first-ever True to You Leadership Summit and had everyone in the room engaged and eager for more. His larger-than-life energy engulfed the room and made you feel like he was sharing his wisdom directly with you. Simon is a difference-maker with a very special set of skills. Thanks, Simon for all you do to make us brilliant.
Camye Mackey- Chief People Officer, Atlanta Hawks and State Farm Arena
It was terrific to have Simon as the host and a keynote speaker at our virtual annual conference. His positivity, joy, and sense of humor are contagious. He's an energizing speaker with a natural curiosity and he set the perfect tone for our conference.
Wylecia Wiggs Harris, PhD, CAE - Chief Executive Officer at American Health Information Management Association
Simon delivered the opening Keynote for our ESPA Annual Conference and what a great start to our event! This was a virtual event so we needed someone with positive energy and enthusiasm to get everyone inspired and capture people's attention and Simon's talk certainly accomplished this. Simon was careful to incorporate direct references, tips and take-aways for our industry which was a great strength of the program. He earned great ratings from our attendees. I will definitely consider him for other event opportunities and I highly recommend him for program content on business, communications and leadership topics.
Lynn McCullough - Executive Director and Meetings Manager of CMA Association Management
Ignite the Power of Women in Your Life – A Guide For Men
Be the Spark: Five Platinum Service Principles for Creating Customers for Life
Brilliant Living: 31 Insights to Creating an Awesome Life
Releasing Leadership Brilliance: Breaking Sound Barriers in Education
Shift Your Brilliance: Harness the Power of You, Inc.
Release Your Brilliance: The 4 Steps to Transforming Your Life and Revealing Your Genius to the World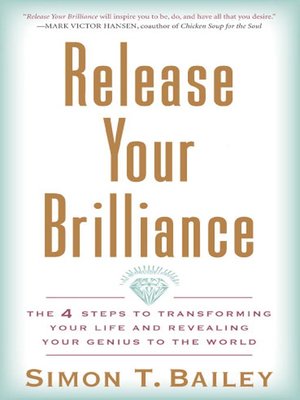 Success is an Inside Job (includes bonus book, Brilliant Service is the Bottom Line)