CSP, CPAE SPEAKER HALL OF FAME
A hilarious speaker on sparking innovative ideas to handle conflict, reduce stress and energize employees.
Christine Cashen is more than just a speaker - she's a force of nature. With over two decades of experience entertaining crowds, Christine has earned a reputation as one of the best in the business.
Her talent for finding the humor in everyday situations is unmatched, and her ability to turn those moments into something magical is nothing short of amazing. Whether she's delivering messages of positivity and productivity or just making people laugh, Christine's unique perspective on life is both refreshing and insightful.
Christine is a Certified Speaking Professional (CSP) and Certified Virtual Presenter (CVP). She is also one of the few individuals to meet the rigorous induction criteria of the National Speakers Association, CPAE Speaker Hall of Fame.
But Christine is more than just a speaker - she's also an accomplished author. Her award-winning books, THE GOOD STUFF: Quips & Tips on Life, Love, Work and Happiness and It's YOUR Business: Good Stuff for Your Personal, Professional, and Funny Business, are must-reads for anyone looking for a healthy dose of humor and inspiration.
Despite her success, Christine remains grounded and humble. She holds a bachelor's degree in communication and a master's degree in Adult Education, and in 2016, she was awarded an honorary doctorate from Central Michigan University. Before becoming a speaker, she worked as a university admissions officer, corporate trainer, and broadcaster.
But above all else, Christine is a survivor. As a cancer survivor, she knows what it takes to overcome adversity and come out stronger on the other side. She's a mother of two, wife of a "hottie engineer," and a true inspiration to anyone looking to live their best life.
How To Stay Inspired When You Are So Darn Tired!
Get ready to feel inspired and energized with Christine's presentation! Learn to "Compose and Dispose" of worry like a boss and figure out what really gives you energy (spoiler alert: it's not just that double-shot latte). With tips to leverage levity, you'll be leading by example and inspiring others in no time.
Get your groove back with tips to "flip the script" and choose your emotional state. You'll leave feeling charged up and motivated to work your magic in both your personal and professional life. So don't miss out on these creative and fun ideas that will help you be less tired and ready to rock every single day!
Why Can't We All Just Get Along?
Are you tired of feeling tongue-tied in tricky situations? Are you dreaming of a team that works like a well-oiled machine? Sick of personal and professional drama dragging you down? Fear not, Christine is here to help you level up your success game!
During this session, you'll discover creative techniques to tackle problems like a boss, and you'll learn phrase tactics to keep your cool and handle conflicts with ease. Plus, you'll get a crash course in different personality styles, so you can communicate like a pro with anyone and everyone.
You will build up the confidence needed to face even the toughest confrontations head-on. Armed with the perfect words, you'll achieve the results you want and build stronger relationships along the way.
Why Brainstorm When You Can Brain Hurricane?
Are you tired of a drizzly brainstorm when you could have a Brain Hurricane? Say goodbye to creative blocks and hello to great ideas in half the time! Christine has tools to boost group morale, relieve workplace tension, and get your productivity to storm status.
You'll learn how to wake up your innovative brain and mindmap the way to your subconscious in this interaction session. Plus, the "what if" game, will generate so many ideas, you'll need a bigger boat!
Discover how to create a creative climate, handle time stealers, and solve problems quickly. Get ready to have a Brain Hurricane and make it rain with amazing ideas!
You were able to connect with people in our field from 2 months to 35 years of experience… WOW!
Texas Christian University Residential Services
Wow! Every one of the 80-plus attendees left the room energized – overflowing with ideas we could use at work and in our personal lives. We're so lucky to have found a world-class speaker.
Vice President, Morgan Press
You have to be one of the most dynamic and passionate speakers we have ever seen. We had over 1,000 participants raving about you! Everyone was talking about how inspired they were and what a memorable experience you provided for them. You were titled 'the bomb' because you blew everyone away…you were the 'star' of the show!
Director, University of Texas Medical Branch
We have NEVER had a speaker with marks as high as yours. You got a perfect 5 out of 5 on speaker effectiveness! You are the most dynamic speaker we've ever had at an AAM conference, and I can guarantee you they'll demand to hear you again. Thanks for making me look good!
Association for Accounting Marketing, Inc.
Christine's presentations contain valuable and practical content… she delivers what she promises, a dynamic presentation.
Home Builders Association of Saginaw
I would highly recommend Christine to any group or organization that needs to have their batteries recharged along with gaining very insightful ways to be more organized and efficient. She is absolutely a delightful and wonderful speaker. I can't wait to hear her again!
Area Sales Manager Korean Air
Christine's energy level was extremely high and it thoroughly rubbed off on all the members of our organization.
DFW Interline Association
I would highly recommend Christine's presentations to anyone who wants their employees to have an edge in this competitive environment!
Human Resources Manager Deloitte & Touche LLP
Your talent, poise and humor are truly impressive. Thank you again for being so professional, easy to work with, and downright hilarious.
Job Corps
Christine is the best speaker … in our family.
Christine's Mom
Christine's presentation earned the highest ratings we have ever received for program. Our audience members responded enthusiastically to her spirited and skillful presentation style, as well as to the high quality of the content she presented.
Manager, Business Development Programs San Francisco Chamber of Commerce
What a speaker! Lively and enthusiastic, Christine pulls the whole audience in with her energy. She kept our diverse group attentive and involved the entire time. I have booked speakers for the past eight years, and this was by far the best training session we have ever had.
Executive Assistant, City of Coppell
Absolutely the best seminar I've ever attended! Christine brings to the audience the perfect combination of inspiration, wit and humor… this is truly one you won't want to miss!!
EOC, Home Builders Association
Bravo! We wanted a speaker to close our general session who would leave our group charged-up, motivated and excited for their achievements. And that's exactly what you did! In addition, you stole the show. I can't thank you enough for giving us more than we expected. Every single person in the room was mesmerized by your presentation. Nobody wanted it to end. It was a meeting planner's dream.
LOMA AVP, Meetings & Conventions
The Good Stuff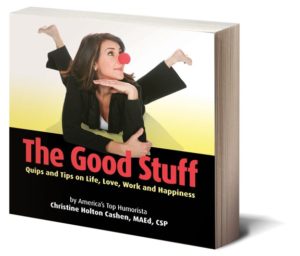 It's Your Business