Preferred Speakers Jay Coughlan's New Book is Now Available
With the launch of his book
Five Bold Choices: Rise Above Your Circumstances and Redefine your Life
, things are moving along smartly for Preferred Speakers Jay Coughlan.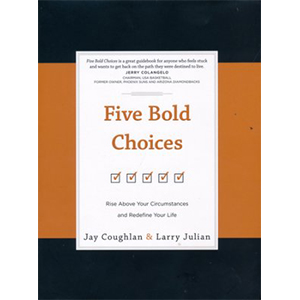 Following is a book description
There are times in our life where we feel stuck. Our noble desires for a successful career and family life get bogged down or derailed by the challenges before us. Whether it be a difficult circumstance or our own limiting beliefs and fears, we can't seem to get past what holds us back.
Five Bold Choices
helps you break free from the barriers that prevent you from realizing your untapped potential. What if the very things you fear and avoid are the very portals of your success and significance as a leader at work and at home? No one seeks trials but they oftentimes put us on a pathway toward realizing our true purpose and potential. Jay Coughlan was confronted with a personal hell that started with making a terrible choice to drive home after drinking with his dad. This decision resulted in a horrific car crash that killed his dad. Jay provides a remarkable story of perseverance from convicted felon to successful CEO. In this book, best-selling author Larry Julian and Jay Coughlan map out five bold choices that get you unstuck and enjoying the journey God intended. This book will not only inspire you to triumph over your most challenging issues, it will provide a practical plan to persevere and realize the true potential that lies within you.
About the authors
Jay Coughlan is a keynote speaker, mentor to aspiring business leaders, and an inspiring leader who fosters a culture of high-integrity and openness, having served as CEO of such industry leaders as Lawson Software and XRS Corporation. During his tenure as CEO of Lawson Software, the company completed a $200 million initial public offering (IPO), while growing revenue from $200 million to $430 million. Jay and his family make their home in Eden Prairie, Minnesota. Our long time friend and co-author Larry Julian is a best-selling author, speaker, and executive coach who helps CEOs, entrepreneurs, and small business owners successfully lead with their faith and values. Larry's work has been featured in
The Wall Street Journal, Inc. Magazine, CNN.com, and Fortune.
In addition to
God Is My CEO,
Larry's business leadership books include
God Is My Coach
and
God Is My Success.
Larry and his family make their home in Minneapolis, Minnesota. "When things are challenging and we're out of balance - we're in danger - not so much for our circumstances but from our own thoughts."