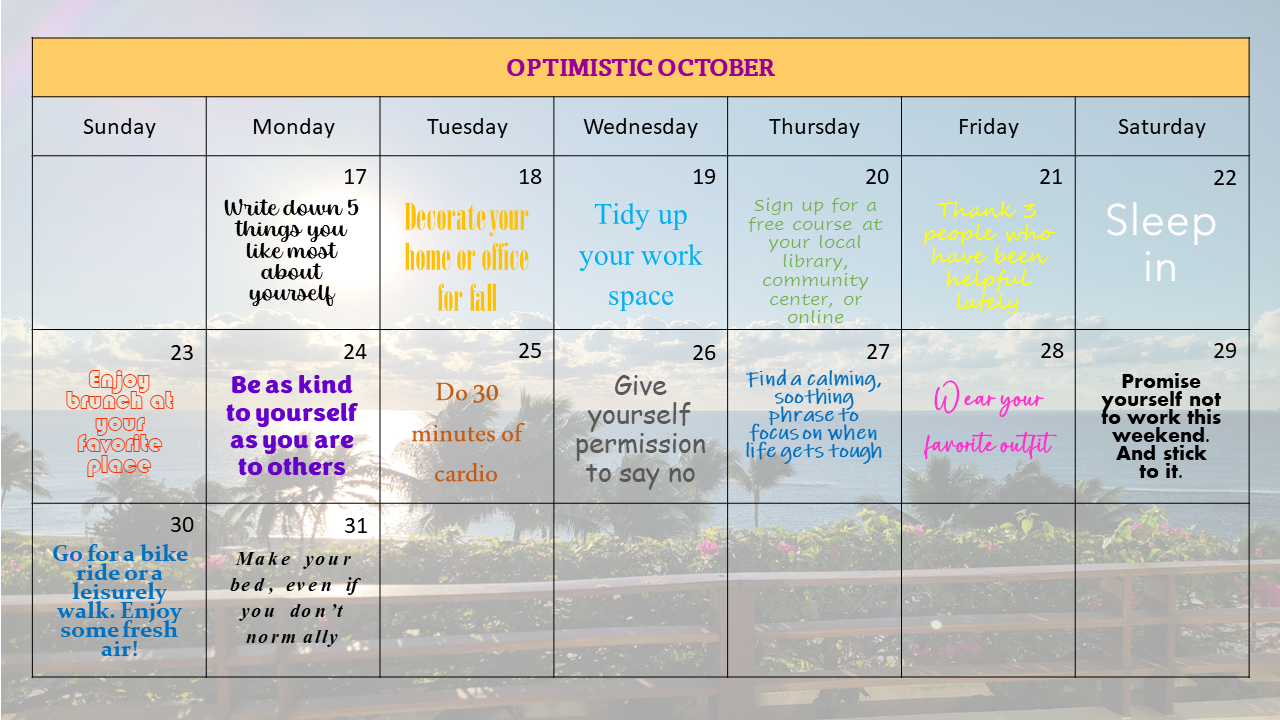 You've probably heard of Self-Care September. Well, welcome to Optimistic October!
We created this calendar to get you through the rest of the month, with some easy tasks we hope will leave you optimistic and empowered. And below we introduce you to two speakers who will get your groups to thrive in their personal and professional lives.
Colette Carlson Founder, Speak Your Truth, Inc.
Colette Carlson is an author and keynote speaker who inspires leaders and teams worldwide to strengthen behaviors that impact their relationships, resilience, and results. She understands the psychology, mindset, and skills required to thrive during times of uncertainty, ambiguity, and stress, and she excels at developing leaders' social and emotional intelligence to create empathetic, inclusive environments where teams flourish. It's no secret that:
Customers buy from people they like, know, and trust
Employees want to work for people they respect
So the ability to connect on both a personal and professional level isn't just a nice skill to have; it is your greatest asset and your biggest competitive advantage. And when you combine her master's in human behavior, 20+ years of experience in the personal development field, CSP designation (Certified Speaking Professional), and 2017 induction into the CPAE Speaker Hall of Fame®, you get presentations that weave together powerful life lessons, research-backed strategies, and the call to action for personal and professional success. Your group will connect with Colette's inspiring content (customized for each group), engaging style, and laugh-out-loud humor in a creative program about any of (or a combination of) these topics:
Leadership
Sincere Selling
Customer Service
Communication
Cultivating Connections
Professional & Personal
Wellness
Stress Less & Focus
Women Leaders
Suneel Gupta Author, Well-Being Expert
The New York Stock Exchange named him "The New Face of Innovation." He is a researcher and teaches about interconnection between inner well-being and outer leadership at Harvard Medical School. He serves as emissary for Gross National Happiness between the U.S. and the Kingdom of Bhutan.
But all of that is what he does. What is Suneel Gupta's purpose? In his own words: To "… find good people, and inspire them to do what inspires them."
As the founding CEO of RISE, a breakthrough wellness company with an app voted #1 by Apple, he helped thousands of people personalize their physical and mental health journey while connecting with certified nutritionists and trainers, affordably. He was one of the first investors in CALM, which now helps millions of people achieve a greater sense of work/life balance.
His mission: To help organizations reach sustainable peak performance by bolstering their people's emotional resilience.
He starts with an important question: "How can an organization excel on the outside if its people are exhausted on the inside?" Then he teaches leaders and teams habits for beating burnout and boosting long-term creativity, innovation, and productivity.
Backable, his first book, is based on his inner journey from twice-failed entrepreneur to leader of two IPOs. It gives readers seven simple steps to immediately make themselves backable, with stories from some extraordinary people about how they persuaded others to take a chance on them and their ideas.
His next book is a focus on the interconnection between inner well-being and outer performance.
Suneel is a master storyteller, using both the written word in his books (his next one will be out soon!) and on stages inspiring, entertaining, and teaching confidence-building techniques to groups around the world.