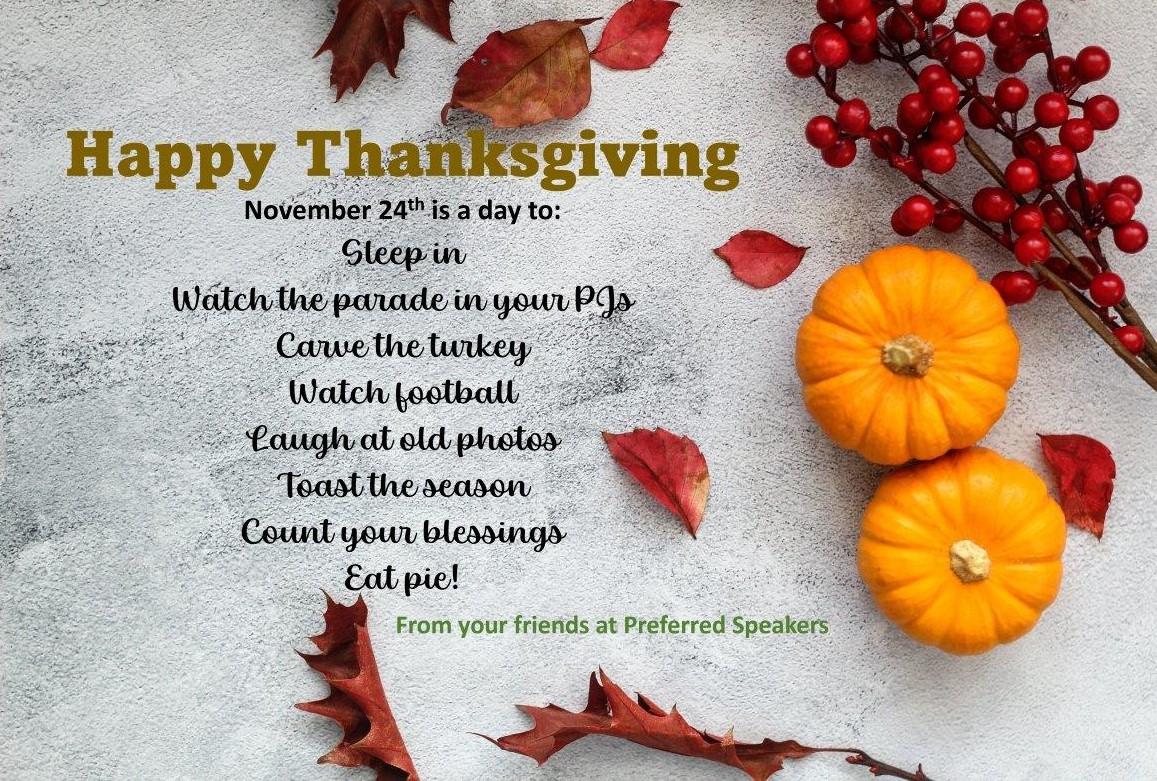 We are so thankful for YOU, for amazing speakers, and for another season to connect you and them.
And we've heard from so many of you about how thankful you are for our support, for our unmatched service, and for being a family business that treats people like family. This month, we share with you two speakers we are especially thankful for, and hope you enjoy learning about their styles, presentations, and the parallels that can be drawn between groups and families. One is an expert in -- among other things -- generational differences (and don't we have those at our Thanksgiving tables!). And one who can teach your group -- among other things -- to build bridges (often needed in families at holiday time). Adrian and Chester collaborated on the 2020 book
Leading with Gratitude: Eight Leadership Practices for Extraordinary Business Results
. And that's just what they deliver: Extraordinary business results.
Adrian Gostick Culture, High-performance Teams, and Wellness Expert
Adrian is a global thought leader in the fields of corporate culture, leadership, generational differences, and engagement, and a speaker with substance. Whether you're planning a small executive retreat or searching for a dynamic keynote speaker for your annual conference, Adrian will lead your group through:
Building an All-In Culture, Managing Change and Enhancing Engagement
The 5 Disciplines of Today's Most Effective Work Groups
8 Leadership Practices for Extraordinary Business Results
Adrian is ranked #3 on the list of the world's top leadership gurus and #9 in organizational culture. His work has been called "fascinating" by
Fortune
and "creative and refreshing" by the
New York Times
.
Chester Elton High Performing Culture and Leaders, Employee Engagement, and Teamwork Expert
Chester's speeches are provocative, inspiring, and always entertaining. He has been called the "apostle of appreciation" by Canada's
Globe and Mail
, "creative and refreshing'" by the
New York Times
, and a "must read for modern managers" by CNN. Clients rave about Chester's ability to engage employees at all levels to execute on strategy, vision, and values; and to build bridges across functions, cultures, and distance with these topics:
All In - How Great Leaders Develop a Culture of Belief and Deliver Big Results
The Best TEAM Wins: The 5 Disciplines of Today's Most Effective Team Leaders
Be a Better Manager by Friday: Real Skills for Inspiring Employees, Leading a Team, and Winning in Today's Transformative Marketplace
The Ultimate Collaboration: Bring Them to Your Group as a Team!
Together, Adrian and Chester have spent more than two decades helping clients build high-performance cultures. In their work, they provide solutions for leaders looking to enhance employee engagement and motivation. Their books and talks are supported by research with more than 1 million working adults across the globe, revealing the proven secrets behind the world's best teams.
They are founders of The Culture Works, a global training company, and authors of the award winning, #1 Wall Street Journal and New York Times bestsellers All In, The Carrot Principle, Leading with Gratitude, and Anxiety at Work. Their books have been translated into 30 languages and have sold more than 1.5 million copies. They have been called "fascinating" by Fortune and "creative and refreshing" by The New York Times. You may have seen Gostick & Elton on NBC's Today Show, CNN, or CBS 60 Minutes, and they are often quoted in Fast Company, Newsweek and the Wall Street Journal.
Adrian Gostick & Chester Elton are executive coaches and members of Marshall Goldsmith's Top 100 Global Coaches. In 2022, both ranked in the top 5 Global Gurus in Leadership and Organizational Culture.