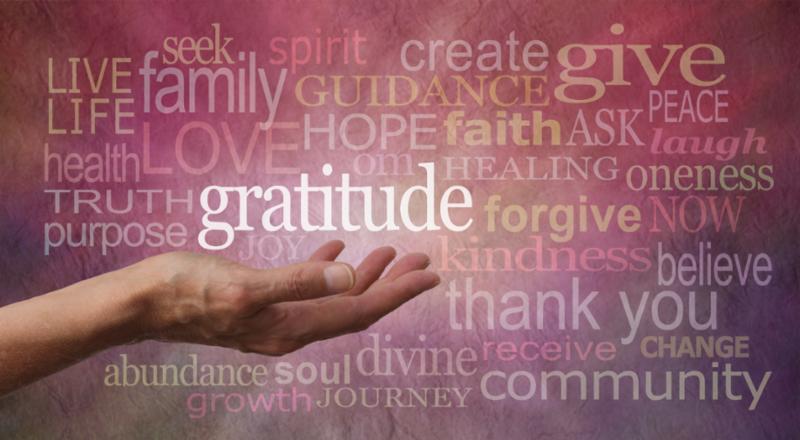 Adopting an Attitude of Gratitude
The month of November signals the whirlwind holiday season is just around the corner, and with it, a feeling of gratitude. It's always fun to see the social media feeds of friends and colleagues who have chosen to intentionally show gratitude for different blessings every day of the month. What a way to bring focus to what is truly important!
Life is so busy. We have no shortage of calls, emails, meetings, and to-dos. It's easy for all of us to get crushed under the weight of task and obligation, forgetting to focus on what really matters.
Sometimes the best thing we can do to step out of the always-busy loop is to slow down, breathe, and take a few minutes to list what you are grateful for!
Here are a few of our favorite things:
• Walking through colorful, fallen leaves
• Giving out Halloween candy to cute little tykes chirping "Trick or treat!"
• Wearing comfy sweaters while drinking hot tea
• Being inspired by stories of resilience, faith, and tenacity
• Exchanging smiles with strangers to bring more kindness into the world
What matters to you? What drives you? What keeps you engaged even when fatigue threatens to get the better of you? What are you grateful for?
Here at Preferred Speakers we are always grateful for the people we are blessed to work with -- clients, speakers, colleagues, and friends. Over the course of our business, we have weathered many storms, experienced growing pains, and said goodbye to dear family and loved ones. Yet, even with the difficult times, we wouldn't trade it for the world. There have been and continue to be so many wonderful new connections made and happy memories had that keep us fueled.
In honor of Thanksgiving and the spirit of gratitude, each of us at Preferred Speakers wants to THANK YOU for being a part of our family. We learn from you, grow with you, have fun with you, and support you. It just wouldn't be the same without you! It would just be a job instead of what it truly is -- our passion.
Preferred Speakers is our family business and we take pride in making every single event special. We believe that one of the most important parts of an event is the speaker, and we give it 110% to match your event to the perfect expert, entertainer, or engager!  A timeless topic,
Preferred Speakers represents some of the best speakers that address the topic of Gratitude.
Contact us today and let us help you find the perfect speaker for your corporate event!