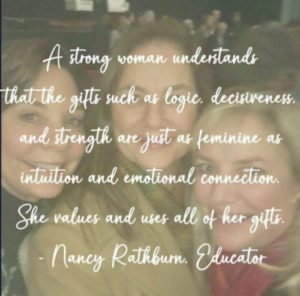 Celebrating Women & Equality | FROM Powerful Women TO Powerful Women
Here's to Strong Women ...
May we know them.
May we be them.
May we raise them.
The origins of this quote are unknown, but here are some other "may wes" to consider:
May we mentor them.
May we understand them.
May we empower them.
Did you know that Women's Equality Day is celebrated August 26th each year?
2023 has been a big year:
Our speakers are regularly in-person again (after the dreaded pandemic years)
Vinyl records are outselling CDs in the U.S. for the first time since 1987
90-year-old Mr. Pickles (Houston Zoo's oldest resident) finally became a father with Mrs. Pickles (53) to three rare tortoise hatchlings (Dill, Gherkin, and Jalapeño)
Carrie Fisher got a star on the Hollywood Walk of Fame
Preferred Speakers became a certified Women Owned Business!
It was a rigorous vetting process, prompted by a massive, multinational company choosing us as a preferred vendor. And we are committed to putting in the work to ensure that Preferred Speakers makes an impact for our clients, team, community, and world.
The Women's Business Enterprise National Council (WBENC) certification is the gold standard for women-owned businesses in the U.S., and there are 13 million of us, representing 42% of all businesses. WBENC certification validates that a business is at least 51% owned, controlled, operated, and managed by a woman or women. The organization's programs help women entrepreneurs grow their businesses, thrive, and bridge the revenue and capital disparity through access to opportunities and programs that accelerate growth. What does this certification mean for you? It means that we can better serve you and your groups through:
Curated coaching
Growing our business
Learning how to be remarkably resilient
Support and advice from peers and experts
Networking with other women-owned businesses for valuable long-term relationships and friendships
Implementing business best practices (like outsourcing when it makes the most sense)
All so we can better attend to you and your needs by focusing on our core strength: Helping you succeed.
Allow us to introduce you to a generous advocate of women owned businesses, our feature speaker, Simon T. Bailey.
Simon T. Bailey, Transformation and Brilliance Trailblazer | Author & Supporter of Women
Simon delivers a presentation of hope, success, and self-actualization when he takes the stage, virtually or in-person. His message is inspirational; his passion insatiable; and he ignites a spark in your audience members. He believes that every single person is brilliant, and he'll inspire your group to lead better, stay curious, and embrace a growth mindset. How does he do it? With innovative solutions to invest in organizational health, prioritize employee well-being, and empower people to transition from a command-and-control leadership approach to a heart-centered style. With the Disney Institute (a leader in professional development) as his launchpad and his decades of experience working with corporate giants spanning industries from hospitality to retail and beyond, Simon delivers genuinely and knowledgably about the pressure leaders and high performers face. He has curated simple, easy-to-implement strategies to accelerate results. And the world has taken notice! Simon has been recognized among Success magazine's Top 25 (joining Brené Brown, Tony Robbins, and Oprah Winfrey) and leadersHum Top 200 Power List in 2023. He has left an indelible mark on 2,300+ organizations across 54 countries, and is reaching individuals and organizations with 11 books in his repertoire and 14 groundbreaking courses on the LinkedIn Learning platform. Simon T. Bailey on Igniting the Power of WomenSimon believes that when women lead or co-lead discussions, the business is more profitable.Simon believes women should be honored, elevated, and celebrated. Simon believes that men have the opportunity to be advocates and allies for women, both in their personal and professional lives. He believes it so much that he put it in writing in 
Ignite the Power of Women in Your Life: A Guide For Men
. It's 150 pages that guide men to help ignite the immanent and distinct sparks within the women in their lives; to live in whole, genuine, and open relationships; and to help them be vulnerable in those relationships. And beyond the book, Simon brings the topic to audiences seeking solid messages that stick long after the presentation:
Why this is the Age of The Woman
How Men can be Advocates
How to Listen, Collaborate, and Celebrate
How to Get Women a Seat at the Table
His raw honesty and hard-earned truths invite and compel others to shift their brilliance. He's been described by groups as engaging, candid, heartfelt, and even a 'joy bomb.'Simon's mission is clear: To kindle brilliance within leaders, forever altering the way they steer nations, corporations, and societies. Doesn't every group need this? Click
here
 to book Simon T. Bailey. Check out the titles this award-winning speaker and brilliant coach can bring to your group:
Ignite the Power of Women in Business
Shift Your Brilliance: Act Like an Employee and Think Like a CEO (Creative engagement Optimist)
Elevate Your Culture
Release Your Brilliance™: Forget Your Title and Transform Your Job
Spark Empathetic Leadership with Accountability
Spark Customer Love
Spark Next Level Leadership
Spark the Customer Experience
BrilliantU™